__HOTLINE_TU_VAN_BAN_HANG
0915332889
FAY DeoPet is a premium deodorising product for pets, removes bad odours and leaves a pleasant scent quickly and conveniently without bathing. Uses safe and effective ZnRi-Complex deodorant imported from Europe, derived from Caster oil, for excellent odour removal. Fresh, pleasant, and long-lasting scent helps pet de-stress.
FEATURES
- Quickly deodorises unpleasant smells on pets' body.
- Reduces pets' stress, leaves a fresh, gentle, and pleasant scent.
- Allows owners to comfortably play with their pets without being annoyed by bad odours.
- Can be sprayed around dwelling or living areas to deodorise.
HOW TO USE
- Spray all over pet's body, use hands to rub coat and skin thoroughly. Comb gently following hair's direction.
STORAGE
Store in a cool and dry place, avoid direct sunlight.
WARNING
- For pet use only, for external use only.
- This product is not veterinary medicine, biological product or chemical and cannot replace veterinary remedies.
- Keep out of reach of children.

__SAN_PHAM_LIEN_QUAN
49.000đ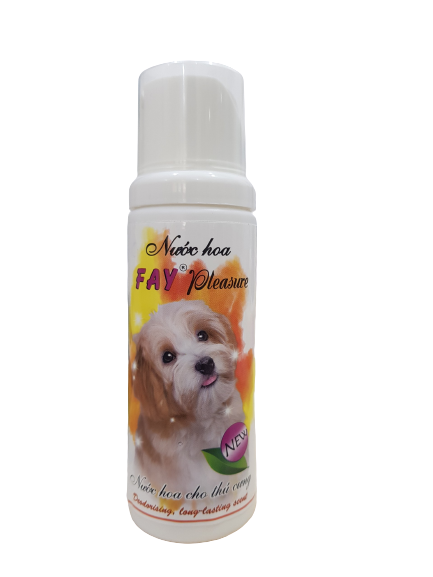 49.000đ

CÔNG TY TNHH MỸ PHẨM HOÀNG ANH
__DIA_CHI: 137/58T Âu Dương Lân, Phường 2, Quận 8, TP. HCM
__DIEN_THOAI: 0915332889
Email: sales@fay.com.vn
Giấy chứng nhận đăng ký kinh doanh số 0303776641 do Sở Kế Hoạch và Đầu Tư cấp ngày 27/04/2005
Copyright © fay.com.vn 2021. All rights reserved.